Welcome to Earthworks Auckland Pros, where we specialize in providing top-notch earthworks services that cater to all your excavation needs. We are a team of dedicated professionals who are passionate about transforming landscapes and creating a solid foundation for future developments.
With our expertise and state-of-the-art equipment, we ensure that every project is executed with precision and efficiency.
At Earthworks Auckland Pros, we offer a wide range of excavation services to meet the diverse requirements of our clients. From small residential projects to large-scale commercial ventures, no job is too big or too small for us. Whether you need site preparation solutions or land clearing expertise, we have got you covered.
Our team works tirelessly to deliver exceptional results that exceed your expectations.
FREE INSTANT QUOTE!
Get a FAST Response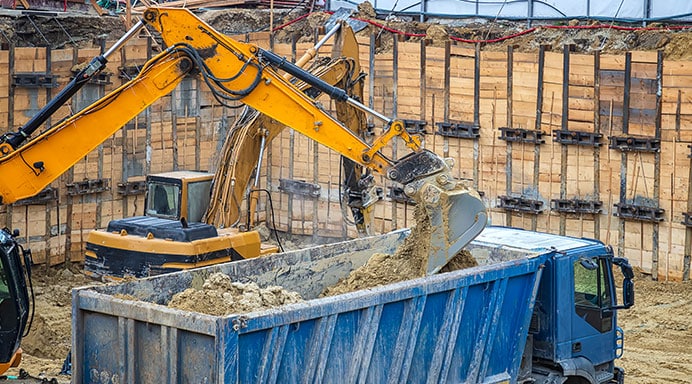 Excavation Services
Our team of experts at Earthworks Auckland Pros are skilled in providing top-notch excavation services to meet all your construction needs. We understand the importance of a solid foundation for any building project, which is why we take pride in our precise and efficient excavation work.
With years of experience under our belts, we've honed our skills to ensure that every dig is executed with precision and accuracy. When it comes to excavation, we utilize state-of-the-art equipment and techniques to get the job done right.
Whether you need a small trench dug or a large area cleared for construction, our team has the expertise to handle it all. We take into consideration factors such as soil composition, drainage requirements, and site accessibility to ensure that the excavation process is seamless and effective.
As we wrap up our discussion on excavation services, it's important to note that at Earthworks Auckland Pros, we offer more than just digging. Our comprehensive range of site preparation solutions ensures that your construction project starts off on the right foot.
From land clearing to grading and leveling, we have the tools and knowledge to prepare your site for success. So let's move on to explore how our site preparation services can further enhance your construction journey without skipping a beat!
Site Preparation Solutions
Get ready to transform your site with our top-notch site preparation solutions. We understand the importance of having a solid foundation for any construction project, and that's why we offer a range of services to ensure your site is ready for whatever comes next.
Our team of experts will assess your specific needs and develop a custom plan to meet them. Whether it's clearing trees and vegetation, leveling the land, or removing obstacles, we have the skills and equipment to get the job done efficiently and effectively.
With our site preparation solutions, you can trust that your project will start off on the right foot.
As we transition into discussing our land clearing expertise, rest assured that we have you covered every step of the way. Our experienced team knows how to handle even the most challenging terrain, ensuring that no obstacle stands in the way of progress.

Locations We Serve
We serve various locations in Auckland, so whether you're in the city or suburbs, we've got you covered. Our team of professionals is equipped to handle any earthmoving project, big or small.
Here are some of the areas we serve:
1. North Shore – From Devonport to Torbay and everything in between.
2. Central Auckland – Covering suburbs like Ponsonby, Grey Lynn, and Mt Eden.
3. West Auckland – Areas like Henderson and New Lynn fall under our coverage.
4. East Auckland – We also cater to places like Howick and Pakuranga.
No matter where you are located in Auckland, our team can come to your site and provide top-notch earthworks services. From excavation to site preparation, we have the expertise needed to get your project off the ground.
Experience and Versatility
At Earthworks Auckland Pros, we pride ourselves on our honesty and fairness. With years of experience in the industry, we offer a comprehensive range of services to meet your construction needs.
High-Quality Workmanship
We offer a broad range of customisation options to allow you to achieve your vision. Our team is experienced and reliable, so you can have peace of mind that your project is in safe hands. We only use the highest quality materials, so you can be sure that your site will last for years!
Tidy and Clean Handover
Chaotic construction spaces become a thing of the past withEarthworks Auckland Pros– Instead, you are left with a clean and brightly shining area. We take care of all the leftover raw materials and construction, so you don't have to worry about it.
Land Clearing Expertise
With our team's expertise in land clearing, obstacles will be swiftly removed to pave the way for your construction project. We understand that starting a new project can often feel overwhelming, especially when faced with a site full of trees, brush, and other debris. But fear not! Our skilled professionals have the knowledge and tools necessary to efficiently clear your land, leaving it ready for whatever lies ahead.
Whether you need a small area cleared or an entire plot of land transformed, we've got you covered. Our commitment to excellence means that we approach each land clearing job with precision and attention to detail. We carefully assess the terrain and vegetation before determining the most effective methods for removal. From cutting down trees and removing stumps to hauling away debris, we take care of every step of the process.
With us by your side, you can rest assured knowing that your land will be cleared quickly and efficiently. As we transition into discussing residential earthworks projects, rest assured that our expertise in land clearing is just one aspect of what we offer. From excavation to grading and everything in between, our team is equipped to handle any earthworks project you may have.
So whether you're planning on building your dream home or embarking on a renovation journey, trust Earthworks Auckland Pros to provide exceptional service from start to finish.
Residential Earthworks Projects
Residential earthworks projects are an exciting opportunity to transform your property and create the home of your dreams. Here at Earthworks Auckland Pros, we specialize in providing top-notch residential earthworks services that can help you achieve just that.
Whether you're looking to add a swimming pool, create a beautiful garden, or level out your backyard for better functionality, we have the expertise and equipment to get the job done right. Here are four reasons why choosing us for your residential earthworks project is the best decision you can make:
1. Expertise: Our team of experienced professionals has extensive knowledge in all aspects of residential earthworks. We understand the intricacies involved in working with different soil types, managing drainage systems, and ensuring proper compaction for long-lasting results.
2. Quality Equipment: We pride ourselves on using only the best equipment available to carry out our residential earthworks projects. From excavators and bulldozers to compactors and dump trucks, we have a fleet of high-quality machinery that enables us to complete each project efficiently and effectively.
3. Attention to Detail: We believe that every detail matters when it comes to creating your dream home. That's why we pay meticulous attention to every aspect of your residential earthworks project – from planning and design to execution and finishing touches.
4. Customer Satisfaction: Our ultimate goal is customer satisfaction, and we go above and beyond to ensure that you are happy with the final result. We listen closely to your needs and preferences, communicate transparently throughout the process, and deliver exceptional workmanship that exceeds expectations.
With our expertise, quality equipment, attention to detail, and commitment to customer satisfaction, choosing us for your residential earthworks project is a step towards turning your property into a haven of beauty and functionality.
Commercial Earthworks Ventures
Transform your business property into a masterpiece of efficiency and style with our commercial earthworks ventures.
At Earthworks Auckland Pros, we understand the importance of creating a space that not only looks visually appealing but also maximizes productivity. Whether you're looking to expand your parking lot, create a new building foundation, or reshape the landscape for better drainage, our team of experts is here to help.
With our cutting-edge equipment and skilled operators, we can tackle any commercial earthworks project with precision and speed. We strive to minimize disruption to your business operations while delivering exceptional results.
From excavating and grading to site preparation and land clearing, we have the expertise to handle it all.
By choosing our commercial earthworks services, you're not just investing in a functional space – you're investing in liberation. We believe that a well-designed and efficient work environment has the power to unleash creativity and productivity among your employees.
Imagine the possibilities when you have an optimized layout that allows for seamless workflow and inspires collaboration. Let us transform your business property into a haven where innovation flourishes and success becomes inevitable.